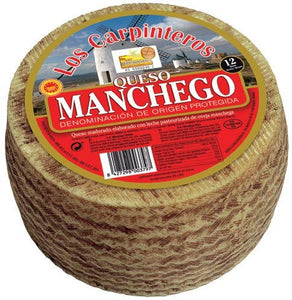 Manchego is an uncooked, pressed-curd cheese made from the tangy, high fat milk of manchego sheep. The cheese combines buttery, tart, sweet, and nutty flavours. As representative of Spanish cheese as Parmigiano-Reggiano is of Italian or Roquefort is of French.

Protected by both the Spanish Denominación de Origen (DOP) and European Protected Designation of Origin (PDO) regulations, this 12 month matured cheese is of the highest quality.

We import the cheese as whole wheels and cut into wedges on order, 0.5kg being 1/6th of the whole wheel. Please choose your desired size from the drop down menu.